What is a Personal Grant?
Personal grants are monetary sums granted to an individual for a specific purpose. These grants do not take the place of benefits programs like welfare or food stamps. Most grants from the government go to state governments, businesses, or non-profit groups for specific projects. The typical grants you see from the federal government that go to individuals help with education. Other grants help fund research projects at small businesses. Many grants come from the private sector. You will find grants usually have specific criteria attached that an individual must meet in order to have eligibility to receive the funds. Many grant funds have limits on award sizes and the number of grants put out in a given period.
Recent published funding opportunities: (Last updated: 2023-12-01)
Apply for Grants
Personal grants are not the same as benefits programs. That is a common misnomer. Benefit programs are to help people by providing funds for food, shelter, and medical care. They are to keep the individual and his family in decent housing and with nutritional food available. Grants are to serve a public purpose. When an individual receives a grant for education, for example, the idea is to help boost a person's chance of being an educated member of society. It helps the economy and the family at the same time.
Most educational personal grants come because of demonstrated financial need. That means the person does not make enough money to pay for the education out of their pocket. Grants are for those that are least able to pay for their education. Students making a certain income level may qualify for student loans, but make too much to be eligible for a grant program. The most common college grant available is the Pell Grant. This grant is the first step into federal grants for academics. Many other grants are available for those that qualify for the Pell.
Some housing grants are available to qualified individuals. These include grants to low income individuals over age 62 in rural areas that need to repair their home to make it safe and livable. That grant is available through the US Department of Agriculture's Rural Development Office. Veterans Affairs makes grants available to military veterans disabled in active military duty. These grants go towards helping them retrofit their homes to accommodate their handicap. These retrofits include adding ramps, widening doorways, modifying kitchens and changing lighting as needed. Most housing grants go to non-profit groups and public housing agencies.
Who can apply? Eligibility Requirements
In order to qualify for the Pell Grant and other educational personal grants, the individual must meet certain financial guidelines. In order to make the process fair, Congress setup a standard formula to determine how much aid for which an individual might qualify. This formula calculates the expected family contribution amount. That is the amount of money that the student and his family is expected to contribute towards a year's worth of educational expenses. This formula considers a family's assets, income, household size, and number of people in postsecondary education. If a student is dependent on parents, then their information is part of the equation.
There are personal grants in education that do not require a demonstrated financial need. The TEACH Grant requires students working towards a teaching degree to agree to teach at certain schools in high-needs subjects for four years. This grant program is not needs based financially, but on the student's commitment to serve those four years as a teacher. Another grant program that does not require financial need is the Iraq and Afghanistan Service Grant. This grant goes to students who lost a parent or guardian due to fighting in Iraq or Afghanistan after September 11, 2001.
For those who want to apply for an individual housing grant, the criteria are quite strict. For the Rural Housing Repair and Rehabilitation grant, the individual must have an income lower than 50% of their community's median. They must be 62 years old or older and own a home in need of repair in order to make it safe and habitable. For those interested in the Veterans' Specially Adapted Housing or Special Home Adaptation Grants, the veteran must have a specific medical classification that indicates they need assistance with modifying their homes. These programs are not available to most individuals.
How to apply for Personal Grants?
For any education personal grant, you will need to fill out the Free Application for Federal Student Aid. This application will tell the university or college what your financial situation is. That will allow the school to consider the cost of a year's tuition and then come up with an awards package. The package may contain one or more education grants like the Pell or the FSEOG (Federal Supplemental Education Opportunity Grant). These grants go to students solely based on financial need. The financial aid package can contain loans and other education financing options as well.
The FAFSA is also a requirement for the non-financial needs based grants as well. For a student who qualifies under the Iraq and Afghanistan Service Grant program, the FAFSA will gather information to determine eligibility. The school can then determine the award amount. The TEACH Grant requires the student to make a request for the grant. Because this grant program requires the student to make a commitment for the future, it is not needs based. It provides funding based on the future commitment to teaching in a school that needs teachers in certain subjects.
To apply for housing grants, you need to go through the agencies responsible for the grant programs. The Rural Housing Repair and Rehabilitation Grant come from the Rural Development Division of the USDA. The individual needs to put in an application that indicates their financial status and age as well as the condition of their home. If they meet the eligibility criteria, the grant may come within 60 days or so. For the Veterans' Specially Adapted Housing or Special Home Adaptation Grants, the veteran needs to provide a completed VA form 26-4555 to their local VA Loan Center.
For more information, please visit these websites:
Grant application guides and resources
It is always free to apply for government grants. However the process may be very complex depending on the funding opportunity you are applying for. Let us help you!
Apply for Grants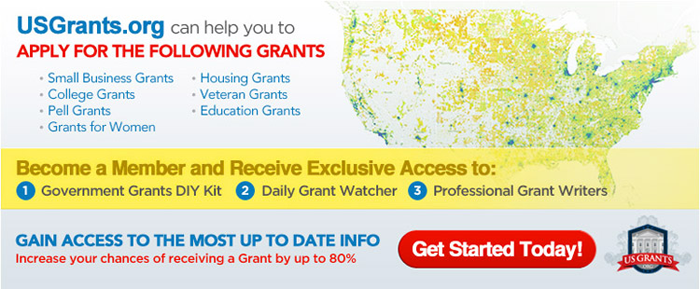 Premium leads for funding administrators, grant writers, and loan issuers
Thousands of people visit our website for their funding needs every day. When a user creates a grant proposal and files for submission, we pass the information on to funding administrators, grant writers, and government loan issuers.
If you manage government grant programs, provide grant writing services, or issue personal or government loans, we can help you reach your audience.
Subscribe to Leads