What is a Pell Grant?
The Pell Grant program offers monetary awards of up to $5500 per year to students who show financial need. The focus of this program is providing financial assistance to students from low income to moderate-income levels. The amount of grants will depend on the total amount of tuition, the students' financial contribution, and the student's enrollment as a full or part time student. Students do not have to repay these grants even if they do not graduate. Grants offer a way to pay for education with money that does not cost the student anything. The Department of Education determines if the student is eligible and awards the money based on need and status.
Recent published funding opportunities: (Last updated: 2023-11-24)
Funding Opportunity
Improving Practical Skills in Serbia's Legal Education Apply for INL23GR0032 EASERBIA LEGALEDU 04182023

Funding Number: INL23GR0032 EASERBIA LEGALEDU 04182023
Agency: Department of State, Bureau of International Narcotics-Law Enforcement
Category: Law, Justice and Legal Services
Funding Amount: $400,000
International Agricultural Education Fellowship Program (CA) Apply for USDA FAS 10619 0762 10 22 0004

Funding Number: USDA FAS 10619 0762 10 22 0004
Agency: Department of Agriculture, Foreign Agricultural Service
Category: Agriculture
Funding Amount: $1,000,000
Master Cooperative Agreement for Natural and Cultural Resource Research, Conservation, Protection, Monitoring, and Education Apply for P19AS00470

Funding Number: P19AS00470
Agency: Department of the Interior, National Park Service
Category: Natural Resources, Other (see text field entitled Explanation of Other Category of Funding Activity for clarification)
Funding Amount: $500,000
Office of Elementary and Secondary Education (OESE): Alaska Native Education (ANE) Program CFDA Number 84.356A Apply for ED GRANTS 060419 001

Funding Number: ED GRANTS 060419 001
Agency: Department of Education
Category: Education
Funding Amount: $1,500,000
National Genetics Education and Family Support Center Apply for HRSA 17 083

Funding Number: HRSA 17 083
Agency: Department of Health and Human Services, Health Resources and Services Administration
Category: Health
Funding Amount: Case Dependent
Pesticide Safety Education Funds Management Program Apply for EPA HQ OPP 2016 001

Funding Number: EPA HQ OPP 2016 001
Agency: Environmental Protection Agency
Category: Environment
Funding Amount: $5,500,000
Namibia Mechanism for Public Health and Medical Education (NAM-PHAME) under the President's Emergency Plan for AIDS Relief Apply for CDC RFA GH13 135804CONT17

Funding Number: CDC RFA GH13 135804CONT17
Agency: Department of Health and Human Services, Centers for Disease Control - CGH
Category: Health
Funding Amount: Case Dependent
Interpretation, Education, Volunteer and Youth (IEVY) Fellow Program Apply for P16AS00653

Funding Number: P16AS00653
Agency: Department of the Interior, National Park Service
Category: Education, Natural Resources
Funding Amount: $40,000
Develop and Print Selma to Montgomery National Historic Trail Teacher Education Packets Apply for P16AS00649

Funding Number: P16AS00649
Agency: Department of the Interior, National Park Service
Category: Education
Funding Amount: $45,495
Environmental Education Program and Urban Refuge Initiative Apply for F16AS00460

Funding Number: F16AS00460
Agency: Department of the Interior, Fish and Wildlife Service
Category: Education, Environment, Natural Resources
Funding Amount: $70,706
Apply for Grants
The Pell Grant Program was originally the Basic Educational Opportunity Grant. It came about as part of the Higher Education Act of 1965 which outlined that a grant was to go to low-income students to help them achieve a higher education. The grant was eventually renamed the Pell Grant in honor of Senator Claiborne Pell of Rhode Island, the gentleman who sponsored the original grant program. The first grant awards averaged $270 in the 1973 to 1974 academic year. In the 2010-2011 academic years, the average grant was $4,115. Starting in 2012, the increases to grant levels will follow the Consumer Price Index.
Who can apply? Eligibility Requirements
Pell Grants are needs based. This means that students have to meet both general and financial eligibility requirements for these grants. The general eligibility requirements are straightforward. The student must have a high school diploma or hold a GED. The student must enroll or accept enrollment at a qualifying institution of postsecondary education. The student needs to be a citizen or qualified non-citizen. The student needs a valid Social Security Number and be enrolled in Selective Service if required. The student must make academic progress once enrolled. Finally, the student agrees to use the money for educational purposes only.
On the financial side of Pell Grants, the story is a bit more complicated. The actual formulas used to determine eligibility requires several parameters. If the student is dependent on parent help, then the student and parents' income and assets are part of the equation. If the student is independent, the student's income and assets are part of the equation. The household size of the student or the parents is a consideration as well. The number of family members in postsecondary education also plays a role. The equation differs for dependent students, independent students without dependents, and independent students with dependents. All of that goes into determining the expected family contribution which determines the ultimate award size.
Pell Grants are only available to students who have not already received their first bachelor's degree. However, students in some teaching certification programs are eligible as well. The students cannot receive these grants from more than one school at a time. Most students come from families where incomes are below $20,000. Most attend either a public two-year or four-year degree granting college. These grants are for a yearly basis with payments often split apart based on an academic term such as a semester, trimester, or quarter. This split allows the payment to spread over the entire academic year.
How to apply for Pell Grants?
All government financial aid, including Pell Grants, requires students to fill out and submit a Free Application for Federal Student Aid, or FAFSA. This application gathers pertinent financial and personal information on the student. If the student is dependent on parent support, the financial and personal information must also come from the parents. This information is part of the standard formula used to determine if the student is eligible for this grant program, other grant programs, student loans, or other forms of financial aid. Most states use the FAFSA to determine eligibility on state level programs as well.
Once the student completes the FAFSA, the Department of Education reviews the information and determines eligibility. The student then receives a Student Aid Report which outlines the amount of aid available. That aid package may or may not include Pell Grants. The Student Aid Report also outlines the student's expected family contribution amount. The grants then go to the university or college where the student holds an active enrollment. The school then applies the grant to the student's academic costs, release the funds to the student directly, or do a combination of these.
Pell Grants cover a year at a time, but the university can choose to disburse the grant over academic terms. So if you receive a grant for the full $5,500 for a year, but your school has two academic semesters every year, the university can choose to split that amount into two separate amounts they award at the beginning of each academic term. The school must provide you with a schedule of when they plan to disburse the money and how much for each disbursement. That allows the university to make sure there are sufficient funds available to cover academic costs for each semester.
Since Pell Grants handle a year at a time, each year you need to reapply for financial aid to get grants for the next academic year. Your university or school should publish deadlines for when you need to complete and submit the FAFSA each academic year. You will need to provide up to date information on your financial situation, and if dependent, on your parents' financial situation as well. This resubmit allows both the Department of Education and the school to determine your current need for financial aid.
Pell Grants make higher education possible for children from low-income families. They provide economic help for thousands of eligible students every year all over the United States. They also cut down on future economic burdens since they do not require students to repay them after they graduate as student loans do. This makes them particularly helpful to families and students who would have trouble paying for higher education otherwise.
For more information on Pell Grants and the Free Application for Federal Student Aid, please visit the following websites:
Grant application guides and resources
It is always free to apply for government grants. However the process may be very complex depending on the funding opportunity you are applying for. Let us help you!
Apply for Grants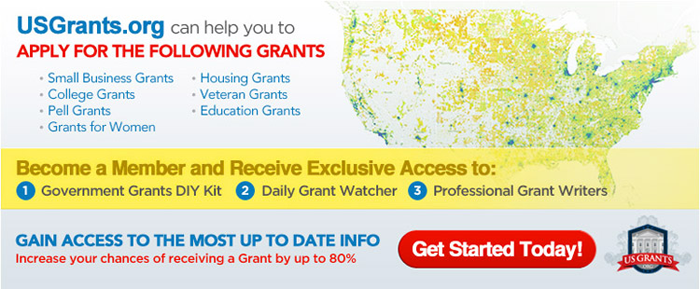 Premium leads for funding administrators, grant writers, and loan issuers
Thousands of people visit our website for their funding needs every day. When a user creates a grant proposal and files for submission, we pass the information on to funding administrators, grant writers, and government loan issuers.
If you manage government grant programs, provide grant writing services, or issue personal or government loans, we can help you reach your audience.
Subscribe to Leads