What are School Grants?
You can look at school grants in two ways. If you are a student, a school grant might equate to a grant you can use for your education. However, if you run a school, such a grant may be away to provide additional funding for special projects or to expand school services to additional students. This article looks at funding an individual's education. For those looking to fund their own education, these grants are the perfect way to do it. The money does not require repayment at any point. The only proviso is the money must go towards paying for educational expenses. The focus is to give deserving students a financial boost towards their education dreams.
Recent published funding opportunities: (Last updated: 2023-12-08)
Funding Opportunity
Strengthening of the Quality and Scope of Undergraduate and Postgraduate Medical and Public Health Training Programs at the University of Zambia, School of Medicine in the Republic of Zambia under the U.S. Presidents Emergency Plan for AIDS Relief PE Apply for CDC RFA GH12 124104CONT17

Funding Number: CDC RFA GH12 124104CONT17
Agency: Department of Health and Human Services, Centers for Disease Control - CGH
Category: Health
Funding Amount: Case Dependent
School to Work: Explore Careers in the NPS Apply for P16AS00652

Funding Number: P16AS00652
Agency: Department of the Interior, National Park Service
Category: Education
Funding Amount: $43,498
Cyclic Maintenance Field School on Keys Ranch Structures, Joshua Tree National Park Apply for P16AS00639

Funding Number: P16AS00639
Agency: Department of the Interior, National Park Service
Category: Other (see text field entitled Explanation of Other Category of Funding Activity for clarification)
Funding Amount: $56,213
FY 17 Farm to School Grant Program Apply for USDA FNS F2S 2017

Funding Number: USDA FNS F2S 2017
Agency: Department of Agriculture, Food and Nutrition Service
Category: Food and Nutrition
Funding Amount: $100,000
Office of Elementary and Secondary Education (OESE): Preschool Development Grants: Preschool Pay for Success Feasibility Pilot CFDA Number 84.419C Apply for ED GRANTS 082216 001

Funding Number: ED GRANTS 082216 001
Agency: Department of Education
Category: Education
Funding Amount: $40,000
Natural Resources Management Education and Training of Cottage Grove Area High School Students Apply for NWP 16 0003

Funding Number: NWP 16 0003
Agency: Department of Defense, USACE Portland District
Category: Education
Funding Amount: $12,500
U.S. Nuclear Regulatory Commission Funding Opportunity Announcement (FOA), Scholarship and Fellowship Education Grant, Faculty Development Grant, and Trade School and Community College Scholarship Grant, Fiscal Year (FY) 2017. Apply for NRC HQ 60 17 FOA 0001

Funding Number: NRC HQ 60 17 FOA 0001
Agency: Nuclear Regulatory Commission
Category: Education
Funding Amount: $450,000
Buddy Bison School Program and Kids to Parks Day Apply for P16AS00389

Funding Number: P16AS00389
Agency: Department of the Interior, National Park Service
Category: Education
Funding Amount: $160,000
THIS IS NOT A REQUEST FOR APPLICATION- 1872 Neosho Colored School- THIS IS NOT A REQUEST FOR APPLICATIONS Apply for NPS NOIP11AC90813

Funding Number: NPS NOIP11AC90813
Agency: Department of the Interior, National Park Service
Category: Arts (see Cultural Affairs in CFDA), Humanities (see Cultural Affairs in CFDA)
Funding Amount: $50,000
Professional Development Delivery Model for Department of Defense Education Activity Leadership Department of Defense Schools Apply for USDA NIFA EXCA 005923

Funding Number: USDA NIFA EXCA 005923
Agency: Department of Agriculture, National Institute of Food and Agriculture
Category: Agriculture
Funding Amount: $1,212,275
Apply for Grants
One of the more popular options in school grants is the Pell Grant. This grant goes to students who plan on attending college full time for at least a year and need the financial help to make tuition costs. The maximum award amount is $5,500 for an academic year. The tuition costs at your university also go into calculating the award amount. For students from very low-income families, the Federal Supplemental Education Opportunity Grant (FSEOG) provides additional funding awards from $100 to $4000 per year. These grants are all based the student's income, the school's tuition, and the family' ability to contribute to the education costs.
Not all school grants are entirely needs based. The TEACH Grant goes to students who want to teach in schools which serve low-income families. In exchange for the grant, the student agrees to teach four years in a high-needs school district. If the student fails to meet that obligation after graduation, the grant will turn into a loan and require repayment. The Academic Competitiveness Grant (ACG) goes to students in their first or second year of college who meet certain academic requirements. The National Science & Mathematics Access to Retain Talent Grant (National SMART Grant) goes to students who receive the Pell Grant and enrolled in certain math and science majors. The Iraq and Afghanistan Service Grant goes to children whose parent or guardian died in combat in either Iraq or Afghanistan.
Who can apply? Eligibility Requirements
School grants all have their own eligibility requirements. Needs-based government grants go to students who meet certain financial guidelines. Those grants include the Pell Grant and the Federal Supplemental Education Opportunity Grant. Students interested in these grants will use the Free Application for Student Financial Aid, or FAFSA, to apply. The information gathered there includes financial information on the students and his family, if necessary. That, combined with the school's annual tuition, helps determine if the student has a demonstrated financial need. If the student does, the university, college, or technical school can make a grant part of the student's financial aid package.
The TEACH Grant has other eligibility requirements. The student still has to complete the FAFSA, but does not have to have a demonstrated financial need. The student's university must be one of the participating schools in the TEACH Grant program. The student must enroll in classes leading to a teaching degree. The student must score above the 75th percentile on the university's admissions test or maintain a 3.25 average GPA to receive the grant. The student must also sign an agreement to serve as a teacher to low-income students in a high-need field such as mathematics, science, special education, and bilingual education.
The Academic Competitiveness Grant goes to first or second year students who are eligible for Pell Grant awards. The first step, like the other grants, is to fill out the FAFSA. In order to qualify for the ACG, the student must be a first or second year undergraduate student in a degree program at a two or four-year college. The student's academic load must meet guidelines for being academically rigorous. If a second-year student, the GPA must be 3.0 out of 4.0 at the end of the first year of study.
The National SMART Grant also requires a student to be eligible for a Pell Grant. If the student qualifies there, then the next step looks at academic situation. The student must be a third or fourth year student in an undergraduate program. If the program is a five-year program, then the student can be in the fifth year. The student must be majoring in a degree program in the area of science, technology, mathematics, engineering, or some foreign languages. The student must have and maintain a 3.0 GPA in order to continue receiving the awards.
How to apply for School Grants?
The critical document for applying for any school grants is the Free Application for Federal Financial Aid. This application form is central to any government education grant. There are a couple of ways of starting the process. The student can access the FAFSA online or they can make their application through the university's financial aid office. For students entering college, making an online application is often easier since they may need to see what colleges are offering in financial aid before entering the school. For students already in college, going through the financial aid office might make more sense.
The FAFSA document requires the student to provide information on the following areas: identification, contact information, financial information on the student, financial information on the family (if required), and academic data. Once completed, the FAFSA goes to the University for review and eligibility determination. If the school finds the student is eligible for a grant, they will make the grant part of a comprehensive financial aid package. This happens for almost all grants except the TEACH Grant.
If the student is interested in a TEACH Grant, the student will need to sign the TEACH agreement before receiving the grant money. This means agreeing to teach in a low-income area in a specific high-need academic area. The student needs to contact the financial aid office and let them know of an interest in the GRANT. The school can then setup the grant. Since the grant is not needs based, it requires the student's prompting to the financial aid office.
For more information, you can visit the following websites:
Grant application guides and resources
It is always free to apply for government grants. However the process may be very complex depending on the funding opportunity you are applying for. Let us help you!
Apply for Grants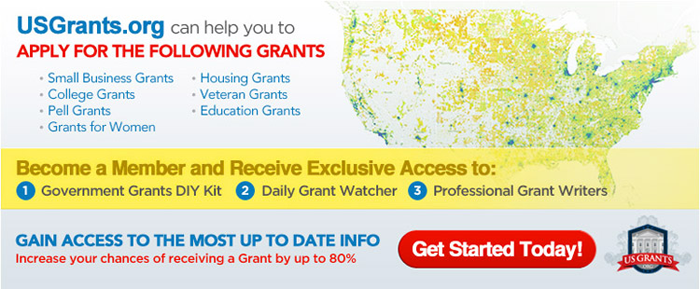 Premium leads for funding administrators, grant writers, and loan issuers
Thousands of people visit our website for their funding needs every day. When a user creates a grant proposal and files for submission, we pass the information on to funding administrators, grant writers, and government loan issuers.
If you manage government grant programs, provide grant writing services, or issue personal or government loans, we can help you reach your audience.
Subscribe to Leads