What are Disaster Relief Loans?
Disaster relief loans are loans used to help individuals and businesses with financial aid to get through a declared disaster. Disasters can come in multiple forms. Earthquakes, fires, floods, tornados, hurricanes, and tsunamis are just a few on the list. When an area receives a catastrophic amount of damage, the state government may declare that area a disaster zone. That opens it up to allow the federal government to come in and help provide financial assistance to individuals and businesses in the area. One form of financial assistance is with these disaster loans. They can help repair building, replace essential equipment, and provide a financial boost to help individuals and businesses recover.
Recent published funding opportunities: (Last updated: 2023-12-04)
Funding Opportunity
Climate Program Office (CPO), Earth System Science and Modeling Research in support of the Disaster Apply for NOAA OAR CPO 2023 2007562

Funding Number: NOAA OAR CPO 2023 2007562
Agency: Department of Commerce
Category: Business and Commerce, Environment, Natural Resources, Science and Technology and other Research and Development
Funding Amount: $250,000
Multipurpose Disaster Shelter Support (MPDS) Activity Apply for 72038820RFA00001

Funding Number: 72038820RFA00001
Agency: Agency for International Development, Bangladesh USAID-Dhaka
Category: Disaster Prevention and Relief
Funding Amount: $13,000,000
NOTICE OF INTENT TO AWARD - "Supporting Practical Family Disaster Preparedness in Haiti and the Dominican Republic" Apply for USGS FA 16 0306

Funding Number: USGS FA 16 0306
Agency: Department of the Interior, Geological Survey
Category: Other (see text field entitled Explanation of Other Category of Funding Activity for clarification)
Funding Amount: $300,000
Regional Conference on Online Media and Disaster Management Apply for M NOFO 16 101

Funding Number: M NOFO 16 101
Agency: DOS-IND
Category: Education
Funding Amount: $85,000
Hurricane Sandy Disaster Relief Act; Restoring Salt marsh and Estuarine Function in the Narrow and Maidford River drainages, Rhode Island Apply for F16AS00176

Funding Number: F16AS00176
Agency: DOI-FWS
Category: Environment, Other (see text field entitled Explanation of Other Category of Funding Activity for clarification)
Funding Amount: $1,237,600
FY16 Pre-Disaster Mitigation Apply for DHS 16 MT 047 000 99

Funding Number: DHS 16 MT 047 000 99
Agency: DHS-DHS
Category: Other (see text field entitled Explanation of Other Category of Funding Activity for clarification)
Funding Amount: $15,000,000
Disaster Assistance for State Units on Aging (SUAs) and Tribal Organizations in National Disasters Declared by the President Apply for HHS 2016 ACL AOA DA 0115

Funding Number: HHS 2016 ACL AOA DA 0115
Agency: HHS-ACL
Category: Income Security and Social Services
Funding Amount: $80,000
Higher Education Disaster Relief CFDA 84.938 Apply for ED GRANTS 011609 002

Funding Number: ED GRANTS 011609 002
Agency: Department of Education
Category: Education
Funding Amount: Case Dependent
Cultural Resources, Disaster Resiliency, and Climate Uncertainty Study Apply for P15AS00139

Funding Number: P15AS00139
Agency: National Park Service
Category: Community Development Disaster Prevention and Relief Education Environment Regional Development
Funding Amount: $30,000
Programmatic Learning for Prevention of, and Response to, Gender Based Violence in Disaster Situations Apply for APS OFDA 11 000004

Funding Number: APS OFDA 11 000004
Agency: Agency for International Development
Category: Disaster Prevention and Relief
Funding Amount: $1,200,000
Apply for Grants
Another way to look at what disaster relief loans are is to look at what they are not. These loans focus on bringing an individual, business, or farm back to the point it was before the disaster as well as being able to meet current legal requirements. They are not loan programs to expand a business or to build a bigger home. They do not provide funds to recover priceless antiques or vintage automobiles. A good example of this is with loans to homeowners. If housing regulations require improvements to a house after a disaster, the loan can cover those costs. But, it cannot cover the cost of expanding your home by 1000 feet.
Types of Disaster Relief Loans
Disaster relief loans usually focus into three areas: individuals, businesses, and farms. Individual loans come through the Home and Property Disaster Loan Program. These loans are to provide financial assistance for losses not covered by insurance or other financial resources. A real property loan will cover the costs of repairing or rebuilding private homes. A personal property loan will cover the costs of clothing, furniture, cars, or other items not directly tied to the home itself. These loans are only available to those in a declared disaster zone. The borrowers must be able to show the actual damages they are trying to cover.
Businesses have two loan programs available to them in a declared disaster zone as well. The first is the Business Physical Disaster Loans which cover the costs of repairing or rebuilding buildings as well as covering the costs of replacing essential equipment and supplies necessary for the business to run. The second loan program available is the Economic Injury Disaster Loans. These loans cover the costs of keeping a business afloat. They help businesses meet essential financial obligations in order to help the business recover. It is not a source to replace revenue or sales losses. A business can qualify for both loan programs from a single disaster. There is currently a $2 million maximum for how much assistance is available to a single business.
Farms have a loan program focused on helping them recover from a disaster. These loans cover expenses to help the farms get back into running order. They can cover costs related to rebuilding or repairing essential structures, purchase equipment, replenish livestock, handle debt refinancing, and replace household items lost to the disaster. Farms must be in a declared disaster area to qualify. Farmers have to try for loans through private lenders first. If that fails, they may qualify for this program. These loans have a $500,000 cap in place.
How to Apply for Disaster Relief Loans
The first requirement for any disaster relief loans is being inside a declared disaster area. When a natural disaster occurs, the state government usually declares a certain geographical area as a declared disaster area. That must be an official declaration to be eligible for applying for such a loan. If your home or business lies within the declared disaster area, the critical step you must take is trying to recover through your own private means. That means you need to submit insurance claims and go through that process. The results of that will play a significant role in determining eligibility for a disaster loan.
For loans to individuals and businesses through the Small Business Administration, the process requires filling out application forms first. For the fastest application process, the SBA recommends using electronic loan application forms through their website. It cuts down on paperwork and delays. Individuals need to provide contact information, identification, deed or lease information, financial data, and insurance information. Businesses provide contact, identification, and insurance information. With that basic information, the process is underway.
The SBA will review the application and determine if they require more information from the potential borrower. They take into consideration if the person or business has the ability to repay the loan. They also look at other factors when reviewing the loan application. If they approve the loan, then the borrower will have to sign and approve all the appropriate documentation before the SBA will release the funds. If the SBA declines the loan, they may provide a reason for the decline. The applicant has the option of reapplying or appealing the decline.
Disaster relief loans for farm recovery go through the Farm Service Agency within the United States Department of Agriculture. Their loan process is much the same as the SBA. The farmer needs to try to recover as much through their private insurers as possible to find out their true financial needs. Then, they fill out the appropriate application forms. The forms require them to provide full financial information on the farm and personal assets. The farm needs the ability to start repaying the loan within a designated period as well. Farmers can find the loan forms online as well as at the USDA FSA site.
All loans provided through these loan programs require the applicants to repay the loans after receiving the funds. Some loans are as short as a year while others can run for decades. The loan papers will outline the requirements of a specific loan program. It is important to read and understand all loan documents prior to signing them.
For more information on disaster relief loans, please visit the following websites:
Grant application guides and resources
It is always free to apply for government grants. However the process may be very complex depending on the funding opportunity you are applying for. Let us help you!
Apply for Grants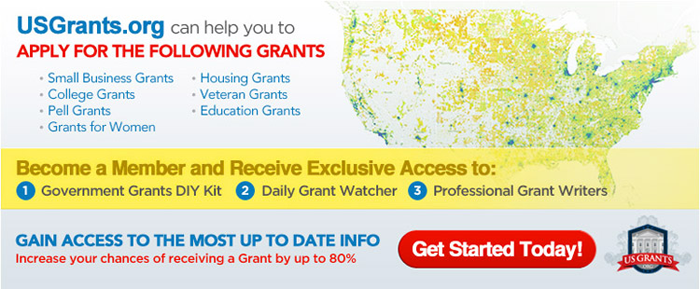 Premium leads for funding administrators, grant writers, and loan issuers
Thousands of people visit our website for their funding needs every day. When a user creates a grant proposal and files for submission, we pass the information on to funding administrators, grant writers, and government loan issuers.
If you manage government grant programs, provide grant writing services, or issue personal or government loans, we can help you reach your audience.
Subscribe to Leads